Real estate agents in outer suburbs have been flooded with calls about the Morrison government's HomeBuilder grant for new homes and renovations, but major industry groups warn many people will fail to qualify unless the scheme is expanded and normal processes are suspended.   Master Builders Australia boss Denita Wawn warned governments may need to exempt applicants from the program's rules unless banks and councils speed up loans and development approvals. Since COVID banks are making it even more harder to get approved. You think they were scrutinising you before COVID think again! They are requesting triple the amount of documents and the whole approval process is taking triple the amount of time. When this is what you are up against 6 months isn't a lot of time.   "The banks need to speed up lending, and state and especially local governments play their role and speed up approvals. Where there are intractable issues the federal government should consider exceptions."   Buyers are eligible for the $25,000 subsidy announced last week if they sign a building contract on a new home by the end of the year.   Mr Forrest told The Sun-Herald and The Sunday Age the government needed to do three things: "Extend the timeframe, have a look at the threshold and make it apply to all new homes."

The scheme is estimated to cost $688 million but is uncapped, meaning anyone who qualifies will receive the grant.

The package aims to stimulate the construction industry amid the coronavirus-induced recession. Applicants must sign a building contract by December 31 and construction must start within three months of signing. Critics said the tight time frame meant many people who qualify would have been planning to undertake the projects anyway, but if you haven't been planning to get into the housing market you need to jump in and jump in now.   One buyer 27-year-old Kresimir Kardum who resides in Sydney says,"It's insane, I can't believe it," Mr Kardum said. "People are crazy not to utilise it. It is the government pretty much giving out free money, but it's not free money unless you capitalise on it."
The Grattan Institute's finance program director Brendan Coates said the benefits of the new build scheme would mostly flow to "outer suburban areas and maybe some areas in the middle suburbs". "We have a lot of people ready to kick their projects off. I've told them straight away that there's a slim chance of us getting this to contract in time if we don't get moving," he said.   "Lead time between conception and signing contracts is usually at least six months for a custom build of any kind. It's a bit of a short turnaround". Mick Phillips of Belle Property in Charlestown near Newcastle said the package was "poorly constructed" and "rushed through". Applications usually took many months to get council approval, he said.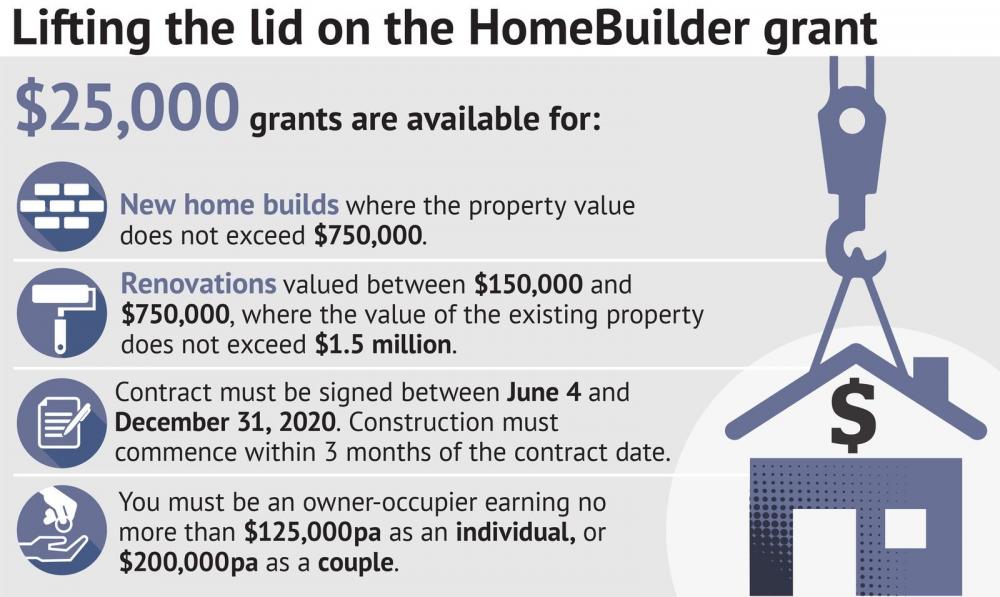 NO DEPOSIT HOUSE AND LAND
"Providing a comprehensive turn key buying solution to Australians without a deposit"

Plus Take advantage of current Government Schemes
PLUS $25K HOMEBUILDER GRANT – (First Home Buyers & Second Time Buyers)
PLUS FIRST HOME OWNER GRANT – (First Home Buyers ONLY)
"Your entire buying process just got a whole lot easier"

Phone 1800 693 477